A modular residential tower designed by nArchitects that is meant to offer a solution to New York's  affordable housing shortage is nearing completion.
The building, named My Micro NY, is currently rising on a site in Manhattan's Kips Bay neighbourhood.
Organised by former New York mayor Michael Bloomberg and sponsored by the city's Department of Housing Preservation and Development, the competition invited designers to propose micro dwellings that could serve as a new model for affordable housing, particularly for one- and two-person households.
The city is experiencing a boom in luxury housing projects, including a series of super-tall residential towers that are now under construction in Manhattan. Architect Steven Holl took issue with the towers in an Opinion piece for Dezeen, stating that "architecture with a sense of social purpose is becoming increasingly rare" in New York.
On-site construction began in March. The modular units are being stacked and bolted together, along with stairs, an elevator and other shared spaces. The building's facade will feature four different shades of grey brick, with varying textures.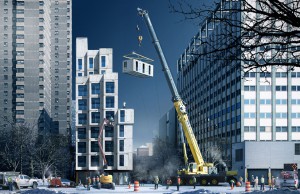 "The project focuses on quality and livability through features that highlight the use of space, light and air," said nArchitects of the design.
"The city's housing codes have not kept up with its changing population, and currently do not allow apartments smaller than 400 square feet, nor an entire building of micro-units," said the firm.
The mayor's office waived some of its zoning regulation to enable My Micro NY to be constructed.
It will be the first micro-unit apartment building in New York and one of the first multi-unit Manhattan buildings featuring modular construction.